We've finally got our first look at Megan Fox in the upcoming The Expendables movie – The Expendables 4 – and she looks great in it!
She gave us our first look at her character in The Expendables 4 on Instagram Stories.
Fox is going to be part of a core team of mercenaries in the franchise.
You can see Fox in the photo she shared wearing black leather trousers, a tactical belt, a vest of some sort (maybe it's bulletproof), with a cropped heavy jacket on top.
She was also wearing pretty awesome looking lace-up platform boots and dark eyeliner.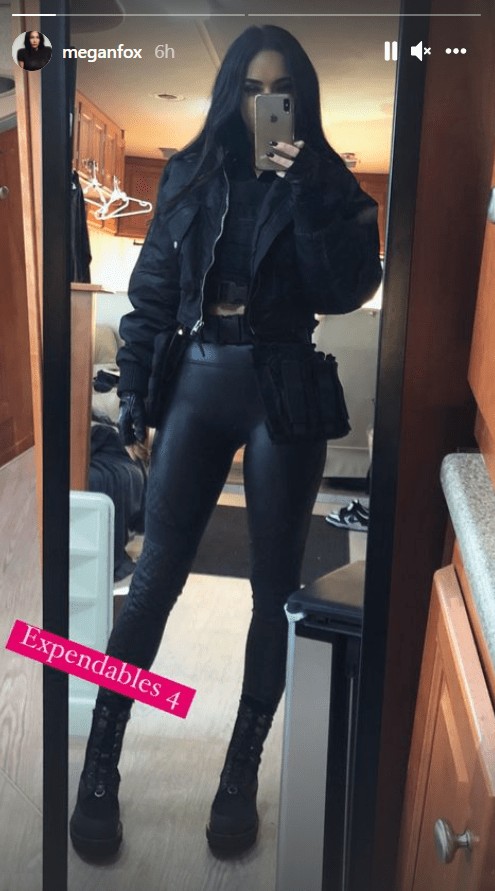 The Expendables 4 movie will star Megan Fox
Read more: A New The Expendables Film Is In The Works
Fox joins the likes of Sylvester Stallone, Jason Statham, Dolph Lundgren and Randy Couture to The Expendables franchise.
The movie is also going to star Curtis '50 Cent' Jackson, Tony Jaa and Andy Garcia.
Lionsgate President of Acquisitions and Co-Productions Jason Constantine welcomes Fox to the franchise, saying:
It's so much fun to bring these stars together for a no-holds-barred action film. The new film will raise the stakes and be the biggest, most badass adventure yet.
The production has been delayed by a number of setbacks including Stallone's reported exit from the movie in 2017 due to creative differences.
Fans don't have to worry though, as Stallone will definitely be included in the movie, despite filming stalling multiple times until this year.
What do you make of this news?
Are you looking forward to seeing Megan Fox in The Expendables 4?
Let us know your thoughts in the comments below.
---
What do you make of this story? Let us know in the comments below or on our Facebook, Twitter or Instagram pages! And if you enjoy listening to film podcasts, why not check out our podcasts, Small Screen Stories and Small Screen Film Club wherever you get your podcasts!
---
---
---