Chris Evans Returning As Captain America
Chris Evans will be back behind the shield as Captain American in the MCU.
This will be brief as there is not much details to go on in the moment, but Deadline is reporting that Chris Evans will be back as Captain America for future Marvel films. It's unknown if the deal is complete but one thing for sure is he will be back.
But in what capacity, you ask? I could never see Evans returning for solo Captain America films in the future, and this is what Deadline's sources tell them. However, it would be very smart (and more than likely) if they had him peppered throughout the films of Phase 4 and Phase 5. Like Rober Downey Jr. did after Iron Man 3 leading to Avengers: Endgame.
Evans is Back As Cap. Will it be old Cap?
Read more: Secret Invasion Will Be A Showcase For Samuel L. Jackson And Ben Mendelsohn
Will we get a young Captain America, or will be get Old Man Cap?
My theory is we will get a mixture of both. We could get Young Cap in flashbacks or a cameo in Doctor Strange 2: Into The Multiverse of Madness. But what I am putting money on is Old Man Cap appearing through the franchise, working on Secret Wars.
Mikey Sutton over at Geekosity dropped a scoop on October 17th, 2020 about Chris Evans coming back for Old Man Cap throughout the Secret Wars arc that will span through the MCU films and television series (Note: Geekosity is in the midst of retooling their site and we'll have the link updated once it's finished). Update: You can read it here.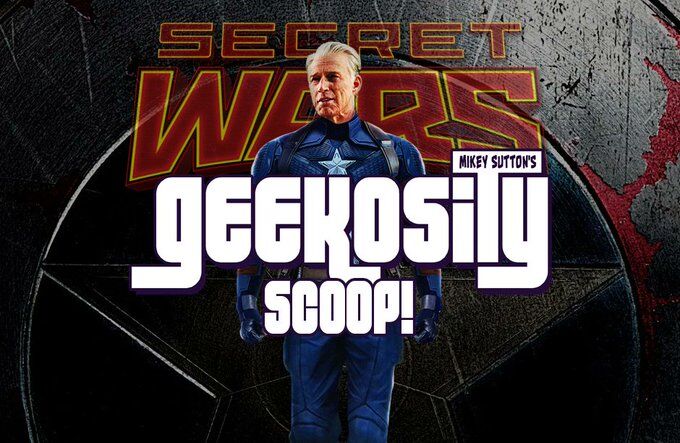 This is exciting news for sure. It's nice to see that Chris Evans has an interest in returning as Captain America. And as Deadline stated:
Evans had been very public that he would be hanging up the shield after Avengers: Endgame with Marvel going as far as having the character hand the shield to Anthony Mackie's character at the end of the film in a passing of the torch type of moment. Things had changed in recent months as the idea was floated of Evans returning to the MCU as Rogers to see if there was any interest and as the weeks went by, Evans became more game to the idea with the two sides coming to agreement at the top of the year.
It's interesting this news comes out the day before WandaVision. Will there be a hint or cameo in the series? What we do know for sure is that fans will be happy with this news and we will learn more in the months to come.
Now the question is are you happy with this news? Do you think Chris Evans should have stuck with hanging up the shield? Let us know your thoughts in the comments below.
What do you make of this story? Let us know in the comments below or on our Facebook, Twitter or Instagram pages! And if you enjoy listening to film podcasts, why not check out our podcasts, Small Screen Stories and Small Screen Film Club wherever you get your podcasts!
---
---
---