A Guide To The Famous Starburst Slot
Online casinos have become a very popular pastime in recent years, especially amongst millennials with disposable incomes. Last year the UK gambling industry posted a gross gambling yield of £5.9 billion, with £3.1 billion coming from the remote sector. With so many casinos and games on offer, including bingo, poker, blackjack, and roulette, it might seem surprising that it is the online slots that have the greatest appeal. Yet these games are very well suited to the medium, and display very well on pc, mobile, and tablet screens.
Part of the appeal to online slots is the ease with which someone can start playing. Unlike some of the other games on offer, you don't have to learn complicated rules and strategies before you start – with online slots you literally just start clicking buttons and the computer will do the rest for you. Different slots offer different bonuses and payout tables, but you can still play happily without concerning yourself too much with how they work.
Slots are designed and created by developers and then sold to online casinos, so you can often find the same slot hosted by different providers. In fact, it's a measure of a slot's popularity if it's sought after by a range of online casinos.
Starburst Slot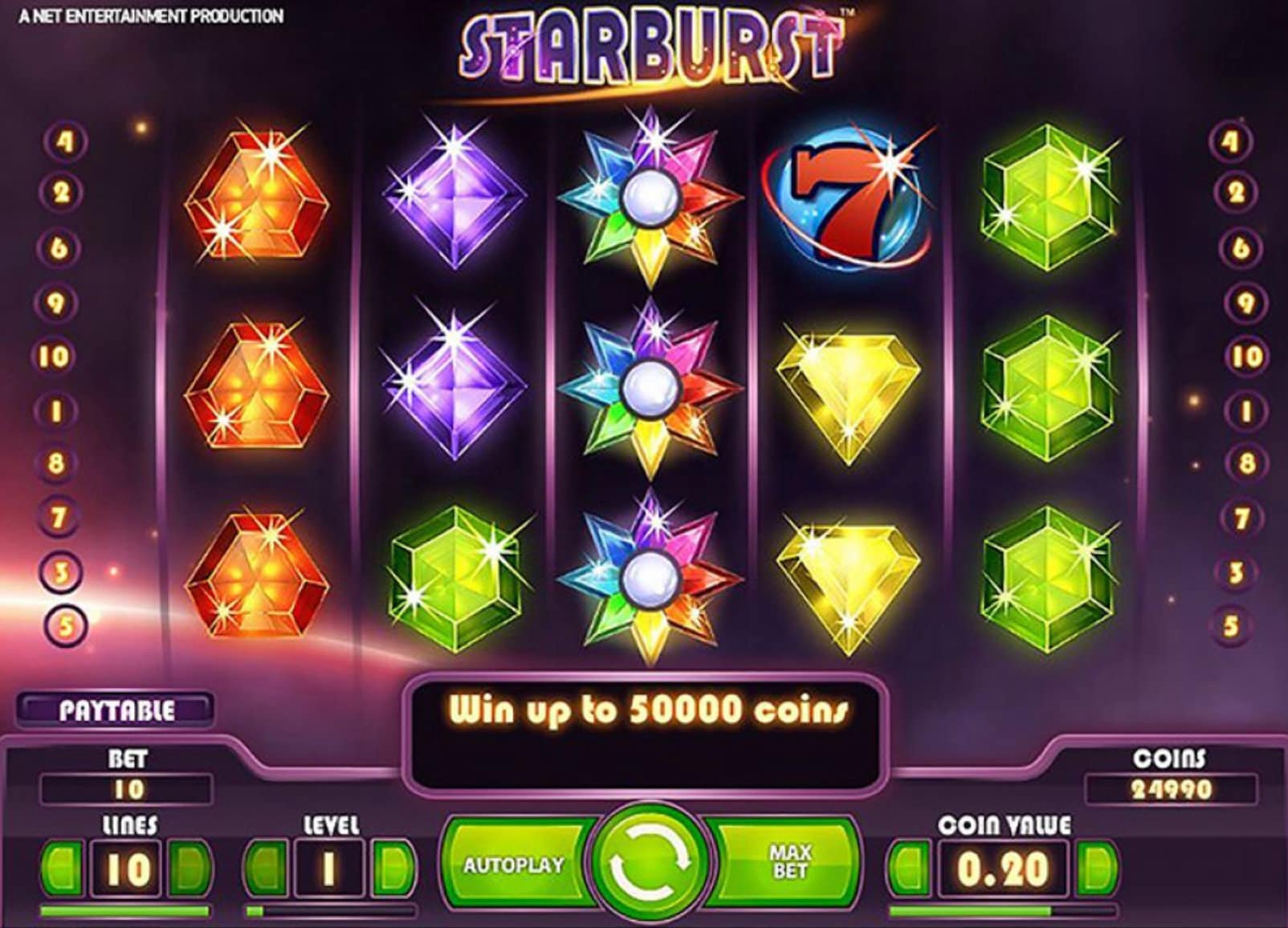 Read more: Here Are The Best Gambling Games Based On TV Shows
One of the most popular online slots is Starburst, a brightly coloured offering from top developer NetEnt. You can play the Starburst slot machine real money at Wink Slots. First released in 2012, it has a classic design that has stood the test of time, and one of its main draws is its simplicity. In a marketplace saturated with online slots, Starburst stands out because it is not stuffed full of bonus rounds and features, offering instead a simple expanding wild icon that triggers re-spins and big wins.
Features
The Starburst slot has five vertical reels which each display three symbols at a time. Across the reels are ten fixed lines that pay both ways, so you will never miss a winning combination. Players can adjust their spend by changing the value of the coins bet; these range from 0.01 to 1.00, and there's an auto spin feature that will keep spinning the reels for you.
Symbols on the reels include the traditional bar and lucky 7 symbols, as well as beautiful gemstones in five different colours and shapes. Each gem sparkles on the screen and they are accompanied by tinkling sounds when they line up. Occasionally you will see a Starburst Wild symbol. This is a multicoloured starburst that only appears on reels 2, 3, and 4. When one lands it will automatically expand to fill the entire reel and act as a wild card to complete winning lines. Each wild also triggers a re-spin, giving you twice as many chances to win.
The Starburst slot has a theoretical RTP (return to player) of 96.1% and a high volatility – meaning it doesn't pay out very frequently, but when it does, the prizes are larger.
The reels of Starburst slots includes different coloured and shaped gemstones.
Appearance
The background to the slot shows a space setting which is echoed in the design of the 7 symbol – a sparkling red ring around a blue planet, reminiscent of a spaceship in orbit. When a line of gems is made, they shine brightly with light reflecting from their many faces. These animations are simple yet charming, and don't make the game appear fussy or too busy.
The soundtrack is simple too, with synthesisers playing an upbeat tune that sounds like it came from a 1970s sci-fi show. When a wild trigger, the pace ramps up with the heightened excitement.
The Popularity of Online Slots
Slots are very easily accessible nowadays, which has helped to raise their popularity. Not only are they straightforward to play, meaning anyone can just load one up and get straight into the fun, but they are also convenient. We are a generation of gamers who like to play casually, filling spare time with quick entertainment. Slots fit this idea perfectly. No need to follow a complicated story or find a save point, sign up for a multi-hand tournament or wait for an event to begin; slots can be played wherever and whenever, for as long or as short a period as you like.
Slot games are a quick game that can be played anywhere on the go.
The increasing availability of technology has helped to drive the spread of online slots. They look amazing on a mobile or tablet screen and convert to small devices very easily. With mobiles now being the nation's preferred way to access online casino, more and more people are discovering slots on the go. Online slots are the perfect way to make the most of downtime during the day – play on the train, in your lunch break, or even while waiting for the dentist. And with new slots released every month, and plenty of old favourites to rediscover, it doesn't look like the rush to play is going to die down any time soon.
Conclusion
The Starburst slot might be nearly ten years old, but it still holds its own against more recent releases. Its classic design and simple gameplay make for a relaxing play, where you don't have to worry about your game constantly being interrupted by different bonuses and special modes. Its beautiful graphics are a joy to behold, and will make you want to come back again and again to see those gems sparkle as you hit the jackpot.
What do you make of this story? Let us know in the comments below or on our Facebook, Twitter or Instagram pages! And if you enjoy listening to film podcasts, why not check out our podcasts, Small Screen Stories and Small Screen Film Club wherever you get your podcasts!
---
---
---